Product Description
The Glock 42 Sneaky Pete Holster has double belt clips which can accommodate a belt up to 1.75" inches wide. The holster is made of high quality soft leather, and when worn on the belt resembles a cell phone case. The advantage of this design is that it allows you to carry your Glock 42 concealed, but with full and easy access. Now it's possible to wear whatever you want, whenever you want to. Don't dress around your gun anymore.

The holster is made inside and out of glove-quality leather, and uses two magnets to stay closed. Each holster is designed for your specific firearm, and the opening is made in such a way that you cannot accidentally place your finger on the trigger during draw. The Kydex insert ensures that a smooth, silent draw occurs every time.

The use of double stitching and steel rivets guarantees that this holster will last for years to come. All available options are listed above, and the holster can be ordered either with the belt loop, or optional belt clip. We design every holster to be as small as possible and still fit your pistol. This holster will not work with a pinky extender on your Glock. Frequently Asked Questions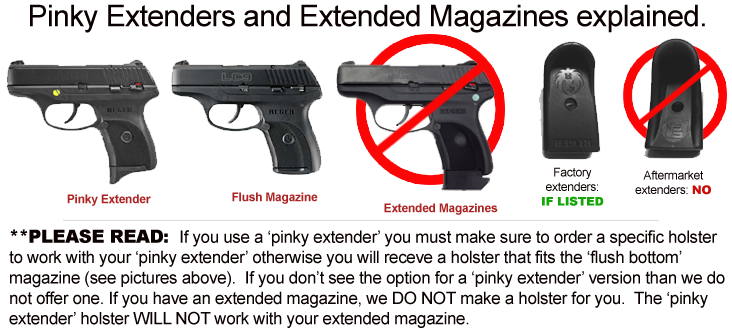 Other Details
Please contact us for warranty and exchange requests.
Custom Field
Approx Internal Dimensions
Height 5 3/4" Width 4 3/8" Depth 1 1/8" (flush base magazine holster)
Product Reviews
Perfect clipped under steering column. Very smooth access with out of view consealability!

Works well for me. Built well - feels good - wears anywhere.

Sneaky Pete leather holster

Works great. Does not cause problems or suspicions. Like they say "hidden in plain sight".

Awesome quality, great fit!

I ordered the leather clip-on Sneaky Pete holster for my Glock 42 and haven't been disappointed the least bit. The holster arrived on time and well packaged. My pistol fits in it perfectly and doesn't move while wearing the holster. I ordered the belt clip style and found it easy to clip on, take off, and it stays put while wearing it. As expected, it's easily noticed on your belt although the appearance doesn't make it obvious what the holster is actually carrying. It's not too bulky and I've left it on while driving and found it to be not too uncomfortable. A "thumbs up" to this well made product.

I had ordered the wrong size holster by mistake. I contacted customers services and they immediately start the process of exchangeing with the correct holster. The product is outstanding and well worth the cost. While working I am exposed to all sizes of civilians and my weapon can not be seen and sneaky Pete holster allows for this. I have two of these holsters.

very comfortable, easy to forget you're wearing it. Discrete carry especially with a small glock 42 .380.

I also bought a Sneaky Pete belt loop hoster and it also is great.

These are great hosters

Blue Glock 42 holster with medical logo

So far nobody has asked me about what kind of emergency medical supplies I keep in the belt container. I am thinking they take one look at me, guess I'm in my 70's, which I am, and assume I need some kind of medical supplies in case of an emergency. A retired peace officer, I also use my other 2 Sneaky Pete black leather holsters for this Glock 42 and my Glock 27. Some folks will see those and know what they are but the average person pays no attention.