Product Description


The BUGBite holster was designed for maximum comfort and concealment. Each holster is designed specifically to conform to the shape of the human leg ensuring that your firearm is supported properly and in a way that allows you to forget you are even carrying a pistol. The BUGBite keeps your firearm properly oriented upwards at all times, and because the design lacks velcro or snaps, removing your pistol when you need it is 100% silent, unlike almost every other type of holster. The holster is designed to comfortably carry pistols from small all the way up to mid-size frame so you only need one holster that can work with a variety of your firearms.
Our size chart is a guide to help you select the best size. BUGBite holsters are made of a light breathable Neoprene that has a snug stretchy comfortable fit. The size chart is a good guide but much like any garment regardless of what size you are, fit is a matter of personal preference and can vary depending on how a leg is shaped, how muscular the calf is or not.
If you are right between sizes. If your measurement falls between two sizes, we suggest going up in size. Fit is in part a matter of personal preference, if when you receive your order you feel a different size would be a better and more comfortable fit, please let us know and we will be happy to help with an exchange.
Right Handed: A right handed BUGBite holster is used on the left leg, the holster is made with a pocket for your gun that sits on the inside of your left leg for a cross draw.
Left Handed: A left handed BUGBite holster is used on the right leg, the holster is made with a pocket for your gun that sits on the inside of your right leg for a cross draw.
Holster Size: size A. 11.5-13.5 size B. 13.5-15.5 size C. 15.5-17.5 size D. 17.5-19.5 size E. 19.5-21.5
Holster length: A.10" B.10" C.10.25" D.10.5" E. 10.75"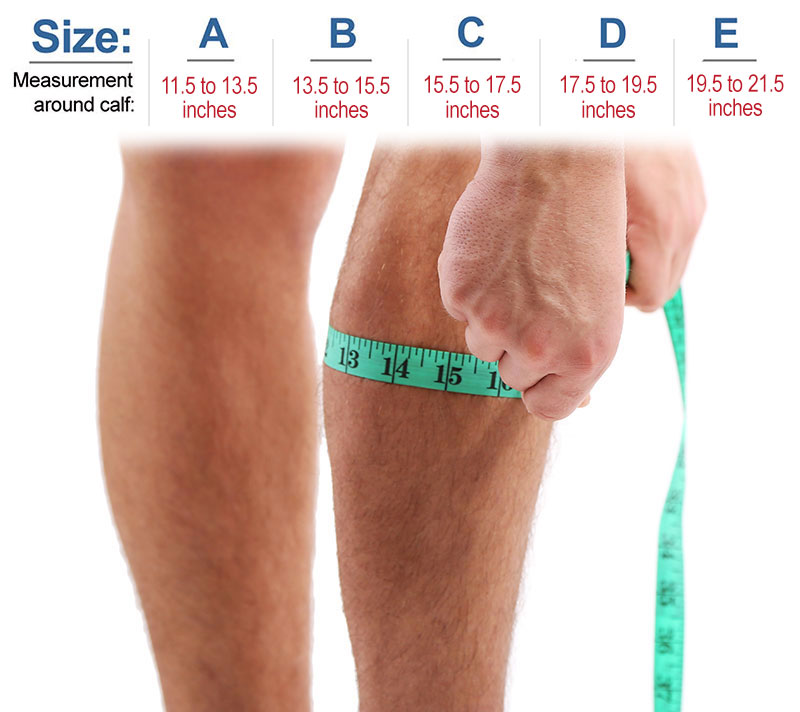 Custom Field
Product Reviews
Really good quality, secures my weapon nicely and is very comfortable, i have a bigger belly so appendix carry is impractical amd very uncomfortable to me. I thought this may do well inside my boots and I was correct. It is designed to be worn slightly above the ankle, more on the bottom of the calf but I can slide it down to my ankle inside my boot and it conceals nicely there and is secure. I'm not able to wear it with boot cut jeans as it is blatantly visible them but with a regular cut pant very concealed. Would recommend for someone looking for a good ankle holer for a compact or a revolver.

It is EXTREMELY comfortable as I literally forgot I was wearing it until I began to undress in the evening. However, unless you're wearing bell bottoms you are NOT, REPEAT, NOT going to retrieve your firearm quickly or covertly. Also the hand grip of my Glock 26 leaves a fairly conspicuous bulge in my pants leg. In fairness, I wear 8 inch high lace up boots and the holster is positioned above the boot. Wearing the holster 4 or 5 inches lower on the leg would probably help significantly with those issues.

This is the second one I have owned. They have improved the quality of this holster 100%. It is one of the most comfortable holster to wear, I have worn all day and forgot I had it own. But make sure you order the right size. I am able to carry most of my firearms, including small revolvers in it.

the most comfortable holster I own. well designed, good materials and all day wearable.

Well designed, comfortable ankle holster. Fits well, securely holds weapon with easy access

Worry it to Memphis today. Very comfortable. Very discreet.

Overall, I am very pleased with this product. It's fits nicely around my ankle, and is relatively comfortable. The product was shipped in a timely manner. Sneaky Pete's does quality work and I would recommend them to anyone who is looking for a holster.

THE BUGBITE ANKLE HOLSTER

Great Item , wear it all the time , I would sleep with it on, but that might be a bit much.

I recently received my Bugbite ankle holster for my Smith n Wesson M&P Shield...outstanding fit and no movement. I can't even tell it's there. I'm so I'm so impressed with the quality I am planning on getting one of the wallet holsters next.