Product Description


The M&P Shield 9mm Sneaky Pete Holster has sewn belt clips which can accommodate a belt up to 1.75" inches wide. The holster is made of high quality soft leather, and when worn on the belt resembles a cell phone case. The advantage of this design is that it allows you to carry your M&P concealed, but with full and easy access. Now it's possible to wear whatever you want, whenever you want to. Don't dress around your gun anymore.

The holster is made inside and out of glove-quality leather, and uses two magnets to stay closed. Each holster is designed for your specific firearm, and the opening is made in such a way that you cannot accidentally place your finger on the trigger during draw. The Kydex insert ensures that a smooth, silent draw occurs every time.

The use of double stitching and steel rivets guarantees that this holster will last for years to come. All available options are listed above, and the holster can be ordered either with the belt loop, or optional belt clip. We design every holster to be as small as possible and still fit your pistol.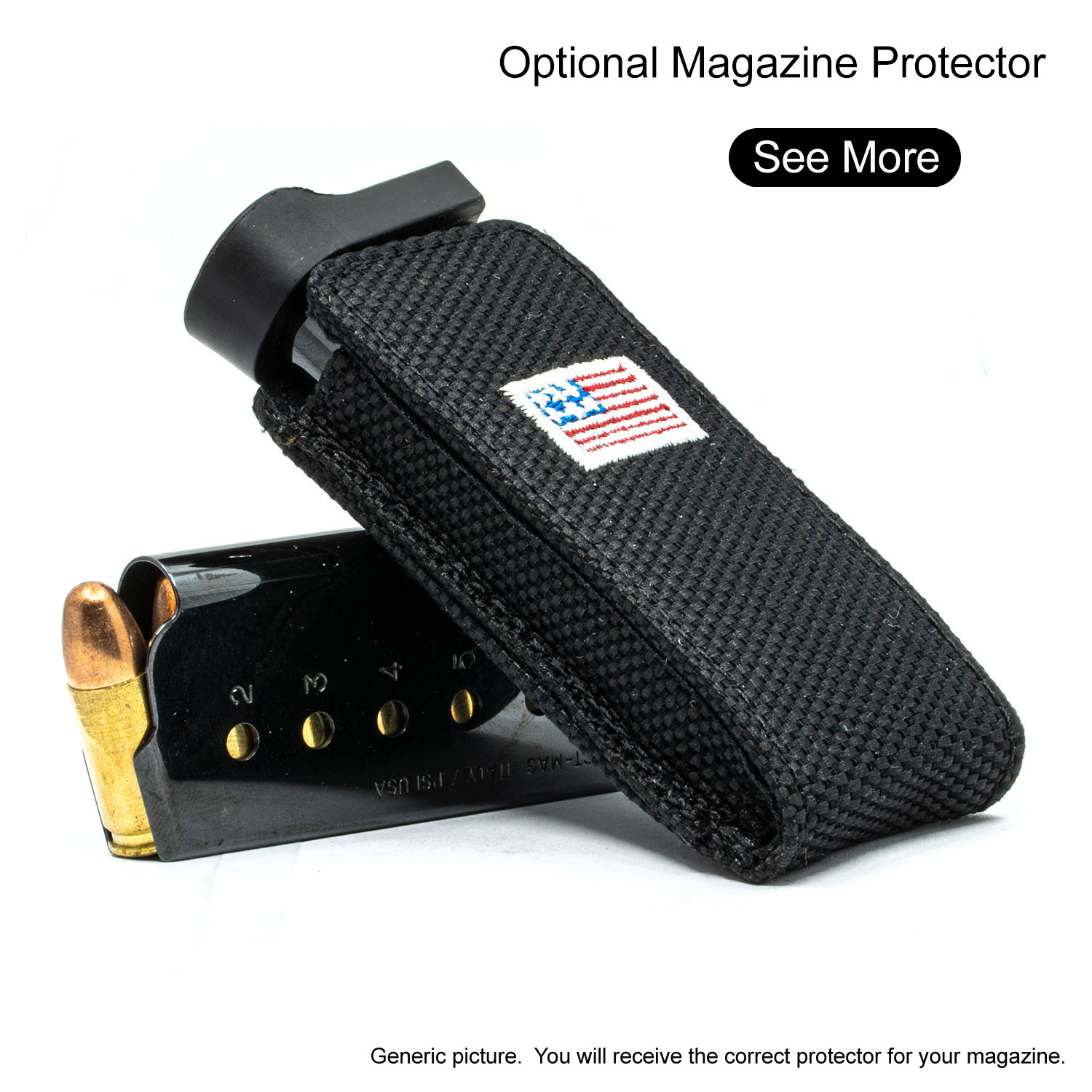 Other Details
Please contact us for warranty and exchange requests.
Custom Field
Approx Internal Dimensions
Height 6 1/2" Width 4 3/4" Depth 1 1/8" (flush base magazine holster)
Product Reviews
A great alternative to IWB

A great alternative to those who are uncomfortable with IWB concealed carry. I developed back issues and I have no pain carrying my "personal protection device" in my Sneaky Pete holster. Carry on !!!

Having one for my Glock 42 for a few years and having recently purchased an S&W 9mm, I new I "had" to have a SP for it. I am very pleased with the holster and would recommend one for any CC carry.

This is very comfortable on the outside, hardly no it is there. High quality workmanship. My 9mm Shield fits perfectly inside with no movement when walking. I highly recommend this holster.

The product is well made and the gun fits well. It is a slide over the belt type holder and they are uncomfortable where they come in contact with your body. I don't wear it much because of that.

I just bought my second Sneaky Pete holster and love them. Basically I wear the holster everywhere I go even to check the mail and wear it even when it must be empty to remain legal. The second holster was slightly too tight when I tried to put the gun in. This was Christmas Day and I figured that an email would be answered Monday. Wrong! It was answered that day with a request for photos. Again I was answered that day and the answer solved the problem. Thank you again Beth and Sneaky Pete Holsters.

I find all my Sneaky Pete holsters a excellent way to conceal carry. Have never had anyone question me as to what it is. Just a cell phone case.....

Love this holster. Very comfortable and secure.

Great workmanship and quality materials.

S&W 9mm shield easy holster

This holster is a great product. Very easy to put on and hold in place. The draw to get the gun out is really simple and it feels secure when in the holster. I never get a second glance when carrying it. I feel like people have no clue what's being carried around in it. I would definitely recommend this product.