Product Description
The Sig Sauer P238 Plan B Magazine Holster is capable of carrying an extra P238magazine either with or without the pinky extender attached. Now carry 6 extra life-saving rounds with you wherever you go.

The reinforced steel belt clip on the Plan B holster allows it to be clipped onto a belt, directly onto a pair of pants, a bookbag strap or even a purse. Made of the same fine Turkish leather as our Sneaky Pete Holsters, the Plan B is a stylish way to carry extra ammo whether you are Wearing a Sneaky Pete holster, or some other method of concealed or open carry.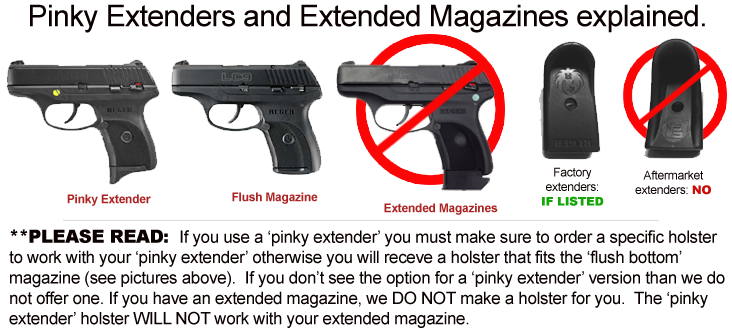 Other Details
Please contact us for warranty and exchange requests.
Custom Field
Approx Internal Dimensions
Height 3 1/2" Width 1 5/8" Depth 5/8"
Product Reviews
Excellent way to carry and extra mag concealed.

Just as the Sneaky Pete holster allows concealed carry without a "cover", the Plan B Mag Pouch allows you to clip and extra mag to your belt without a jacket or shirt over it. The magnetic flap has minimal effect on being able to draw the mag quickly if necessary. The product description says it is not designed for the extended magazine with the pinky extension. However, I carry a Sig P-238 with the extended mag and I find it fits perfectly and is easy to draw. I purchased two of them and I love them

Works Great

any gun owner has to get one of these holsters

if you want to carry a concealed hand gun case , then buy one of these , Sneaky Pete Holsters so you can look like your NOT carrying any gun at all . these holsters are made of great leather, there very soft , handy and you'll find that the hollster is the best one going anywhere . the holster can be worn on your belt and no one will ever know that your carrying a hand gun . and they are not exspensive either , besides looking rich and very good on your belt . Jerry

This is great looking, very well constructed, leather is soft yet firm, looks good on the belt! A definite winner in my book!