Product Description
The Ruger LCP Sneaky Pete Holster has a sewn belt clip which can accommodate a belt up to 1.75" inches wide. The holster is made of high quality soft leather, and when worn on the belt resembles a cell phone case. The advantage of this design is that it allows you to carry your LCP concealed, but with full and easy access. Now it's possible to wear whatever you want, whenever you want to. Don't dress around your gun anymore.

The holster is made inside and out of glove-quality leather, and uses two magnets to stay closed. Each holster is designed for your specific firearm, and the opening is made in such a way that you cannot accidentally place your finger on the trigger during draw. If you have a factory pinky extension you must order that option. The Kydex insert ensures that a smooth, silent draw occurs every time.

The use of double stitching and steel rivets guarantees that this holster will last for years to come. All available options are listed above, and the holster can be ordered either with the belt loop, or optional belt clip. We design every holster to be as small as possible and still fit your pistol. The size of this holster before options is: 94mm x 142mm x 32mm. If you are using a Pearce pinkly extender then our holster will not work. It will work with the factory pinky extender that comes form Ruger (if you choose that option).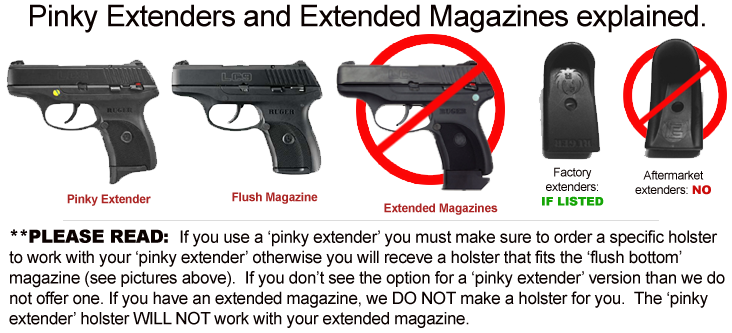 Other Details
Please contact us for warranty and exchange requests.
Custom Field
Approx Dimensions
Height 5" Width 3 3/4" Depth 7/8" (flush base magazine holster)
Product Reviews
LCP 380 Belt Clip Holster

Bought this a while back. My weapon fit nicely in it. It was easy to slide on my belt. The only issue I had was actually with me. The way I get in my car, I was always catching it on the center console. Once in a while it would pop the holster off. I now have the Belt Loop Holster. Problem solved.
I would recommend this holster to anyone as long as they are not as clumsy as me.

Although the size at first looks large, most think we are carrying a cellphone, so easy conceal and carry. Excellent material and perfect fit.

Had a problem with fit for my gun.

Had a problem with fit for my gun, Coustomer service worked with me
well, gave me replacement options, seamless exchange, faster than
expected! Good product, good company, Great service!

Excellent quality holster. My Ruger LCP 380 with laser fits perfectly.

I normally do not write review but just had to on this product. I received my holster 1 week ago. I own a furniture business and I dress business casual / professional. I have been searching for a year now for a holster that would work with my dress attire and not look "sloppy". The Ruger LCP belt clip holster is awesome! It has a clean professional look and holds my weapon nice and secure. I can wear it and it simply looks like a medium sized cell phone holder. No one has even noticed it being there! I have also worn it on a long car ride - very comfortable and not bothersome, Ive worn it with casual clothes again the same and also while walking in the neighborhood. I highly recommend this product!


I've
used a Sneaky Pete holster for my Ruger LCP for well over a year now. It
has held up extremely well; despite daily wear. Yes, it shows some age,
but overall, it is still in excellent condition. In addition, my iPhone
with a protective life case fits inside the holster perfectly. At times
when concealed carry isn't legal, I will drop my phone in and use
it for that. Just this weekend, I went through a security check with the
phone in there. No one even noticed that my SP was a holster or asked me
to open it (despite the metal detector lighting up and squealing like a
bad car alarm). I highly recommend your product to everyone who needs a
good, dependable holster that folks won't even look twice at.

Saw this in American Rifleman and was entriqued by the "in plain site" aspect.
It's a custom made perfect fit for my LCP and really works well in Summer weather when you don't wear a jacket. But I see uses for this all year. It's a quality product from the box it comes in right down to the belt clip. I highly recommend it .

Fantastic Black Leather Holster for the Ruger LCP

This is an amazing holster and is very comfortable. I have worn it now everywhere for almost 2 weeks and have yet to have anyone ask me about it or even notice it from what I can tell. It is high quality leather and very well made. I tried a few other IWB holsters and found them to be uncomfortable. Also, I would like to comment on the customer service at Sneaky Pete Holsters. Even though it is through email only I was able to get very quick responses and answers to all of my questions. I give it 5 Stars!!

The Sneaky Pete allows me to easily carry my lcp concealed in plain sight. The holster is well made and compatible with dress or casual colthing. Being fitted specifically to my pistol and the way it is configured allows for worry free carry. My pistol fits securely into the holster with no fear of it falling out. When left in my vehicle it just looks like a large wallet or pda case and does not draw the attention of thugs looking for guns. Very satisfied with my purchase.
You May Also Like...