The Ruger LCP Concealed Carry Holster has a sewn belt loop which can accommodate a belt up to 1.75" inches wide. The holster is made of high quality soft leather, and when worn on the belt resembles a cell phone case. The advantage of this design is that it allows you to carry your LCP concealed, but with full and easy access. Now it's possible to wear whatever you want, whenever you want to. Don't dress around your gun anymore.

The holster is made inside and out of glove-quality leather, and uses two magnets to stay closed. Each holster is designed for your specific firearm, and the opening is made in such a way that you cannot accidentally place your finger on the trigger during draw. If you have a factory pinky extension you must order that option. The Kydex insert ensures that a smooth, silent draw occurs every time.

The use of double stitching and steel rivets guarantees that this holster will last for years to come. All available options are listed above, and the holster can be ordered either with the belt loop, or optional belt clip. We design every holster to be as small as possible and still fit your pistol. The size of this holster before options is: 94mm x 142mm x 32mm. If you are using a Pearce pinkly extender then our holster will not work. It will work with the factory pinky extender that comes form Ruger (if you choose that option).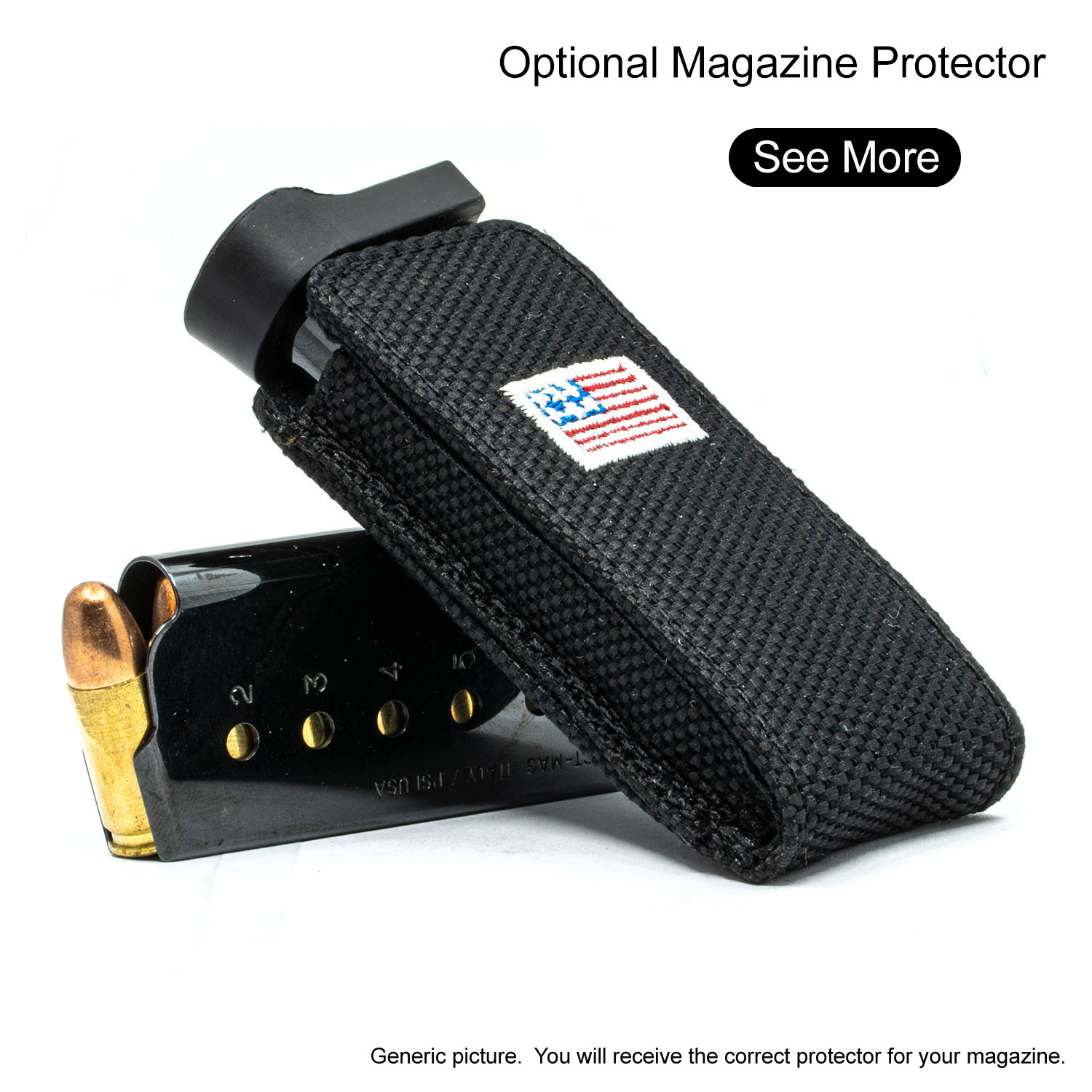 Approx Internal Dimensions:
Height 5" Width 3 3/4" Depth 7/8" (flush base magazine holster)
Please contact us for warranty and exchange requests.
like it

Got the Ruger LCP holster, very nice, well made

I ordered the Ruger LCP holster, But failed to mention the factory grip extension, the holster is made so well that 3/8 of and inch made a big difference and I had to return it and order the right one. Ya, like a few people say "its big", but it as small as it could be and fits the gun exactly!! The return process was very smooth, everyone was very helpful, Great Customer Service!! Top Quality!!

Exactly what I wanted. Easier and quicker to draw from than a pocket holster.

Perfect product, excellent quality, Superior craftsmanship

Will definitely buy this product again and I a highly recommend it

Ruger LCP Conceal Carry Holster

Bought mine for my summer gun, (Up to now I carried it in my pocket) it's great way to conceal carry. I have had it on at the golf course, doctor's office, restaurant, stores and many more places and not one person knew it was a gun they just assume it's a phone or small tablet. It's very comfortable and way better to carry your gun in. The only thing I regret is I didn't buy it sooner.

Ruger lcp concealed carry holster belt loop

Appreciate the product and your service .I have a clip type sp from a previous purchase that still works I just wanted to try the loop type which I like as well.Again thanks, Frank

Perfect fit. So comfortable I almost forget I'm wearing it.
Several friends saw it and have ordered theirs.

Woe very well and not very noticeable when wearing

Wired well

I have a Ruger LCP 380 with Crimson Trace Laser but also have the Ruger OEM 7 round extended magazine. This holster won't accomodate the extra magazine length but Gilly had me send the dimensions and suggested the Beretta Pico holster. I ordered the ISP-1161 holster and it fits the Ruger w/extended magazine like a glove. I couldn't be happier with it.