Product Description
The Glock 19 Sneaky Pete Holster has double belt clips which can accommodate a belt up to 1.75" inches wide. The holster is made of high quality soft leather, and when worn on the belt resembles a cell phone case. The advantage of this design is that it allows you to carry your Glock 19 concealed, but with full and easy access. Now it's possible to wear whatever you want, whenever you want to. Don't dress around your gun anymore.

The holster is made inside and out of glove-quality leather, and uses two magnets to stay closed. Each holster is designed for your specific firearm, and the opening is made in such a way that you cannot accidentally place your finger on the trigger during draw. The Kydex insert ensures that a smooth, silent draw occurs every time.

The use of double stitching and steel rivets guarantees that this holster will last for years to come. All available options are listed above, and the holster can be ordered either with the belt loop, or optional belt clip. We design every holster to be as small as possible and still fit your pistol. This holster will not work with a pinky extender on your Glock. Frequently Asked Questions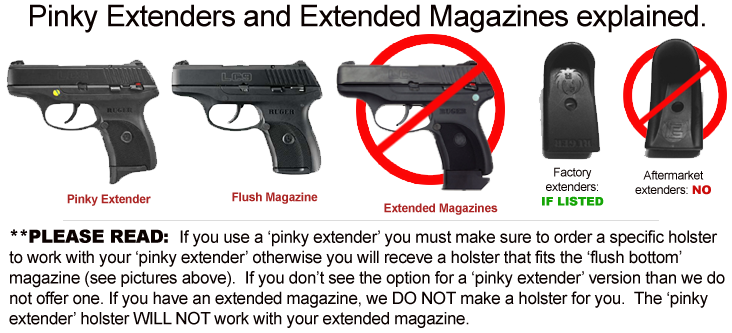 Other Details
Please contact us for warranty and exchange requests.
Custom Field
Approx Dimensions
Height 7" Width 5" Depth 1 3/8" (flush base magazine holster)
Product Reviews
While the holster completely conceals the pistol, and does look good, it is still a bit large for me to carry comfortably. I will try a holster for my Glock 26 and hope that this is less conspicuous.

As a former leather worker, I am very critical of construction quality. I would like to say that the Sneaky Pete is very well constructed, and I am well pleased with it.
Regards,
Bob

Terrific Holster! Able to carry concealed and be on target in less than two seconds. Had read review about thread edges fraying. Ordered ballistic nylon in hope this would not happen. Unfortunately it happened fixed problem with scissors and super glue around the edges. Dont read wrong this is still an incredibly innovative and terrific product. Sneaky Pete has a life long customer.

Innovative & high quality

The quality of the leather was much better than I expected. The belt clips make for a secure hold on your belt, and the magnets keep the flap secured. This is a perfect fit for my Glock 19. For a quality handgun, you want a quality, well-built holster. And this fits the bill. I am very pleased with this purchase, and the prompt shipping by Sneaky Pete.

I like the holster. I just did not think that it was going to be that big. Other than that, I use it while driving.


Yes, I have already been threading my belt through the clips, and
discovered that it works just fine.
Return my Sneaky Pete? **NEVER**I love it and believe it is THE best
holster and holster concept ever invented for concealed carry!
I guarantee you that the next handgun I buy will be "Sneaky Pete
Compatible" and fit one of the holsters that you make.


I ordered this for the Golck 19. I have a Glock 23. Since they are the same dominions I thought I would order it and see if it would work. It does., for me anyway.
It is very well made of fine leather. Just like any other new holster I have to work on the draw. Very comfortable and very discrete. Most people have no idea it is a holster.
Word of advise. If you have installed a magazine release extension I would advise you to put the original back on. I had an extension and almost every time I pulled my gun out of the holster the mag was released. Not a fault of the product because it is not the first time I had that issue with other holsters.

Awesome holster. Very well made, high quality. Nobody has a clue you're carrying a handgun.

I really like the Sneaky Pete line for CC. Very discrete and comfortable to wear.
You May Also Like...