Helpful Videos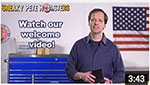 Latest Reviews:
"Ordered the "Belt Clip" model for my Sig P320C. I received it 4 days later through regular mail. Couldn't wait to see it...Holster came packaged in a box with foam padding. Holster was enclosed in a bag to protect finish.... Placed pistol in the holster and it fit perfectly."

-Steve
The innerPocket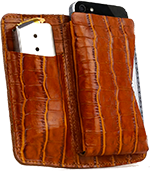 "...just recevied my holster this morning, very happy with Quality and style although i did order the wrong size to start with the company was very understanding and helpful with the exchange i love this holster and will be ordering more soon thank you."
-Ralph C.
Cellphone Holsters
Ruger LCP Sneaky Pete Holster (Belt Clip)
Ruger LCP Sneaky Pete Holster (Belt Clip)
---
Sneaky Pete Holsters: Holsters
()

Product Videos
Please read: Fit Guide
Product Description
The Ruger LCP Sneaky Pete Holster has a sewn belt clip which can accommodate a belt up to 1.75" inches wide. The holster is made of high quality soft leather, and when worn on the belt resembles a cell phone case. The advantage of this design is that it allows you to carry your LCP concealed, but with full and easy access. Now it's possible to wear whatever you want, whenever you want to. Don't dress around your gun anymore.

The holster is made inside and out of glove-quality leather, and uses two magnets to stay closed. Each holster is designed for your specific firearm, and the opening is made in such a way that you cannot accidentally place your finger on the trigger during draw. If you have a factory pinky extension you must order that option. The Kydex insert ensures that a smooth, silent draw occurs every time.

The use of double stitching and steel rivets guarantees that this holster will last for years to come. All available options are listed above, and the holster can be ordered either with the belt loop, or optional belt clip. We design every holster to be as small as possible and still fit your pistol. The size of this holster before options is: 94mm x 142mm x 32mm. If you are using a Pearce pinkly extender then our holster will not work. It will work with the factory pinky extender that comes form Ruger (if you choose that option).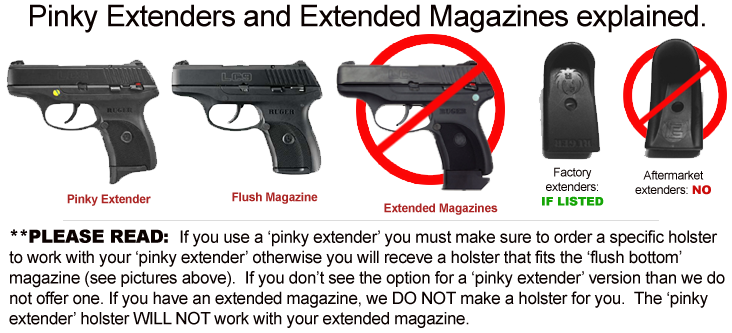 Dimensions
Approx Dimensions:
Height 5" Width 3 3/4" Depth 7/8" (standard holster)
---

Product Reviews
Showing reviews 1-10 of 41 | Next
The "apple" of holsters

Posted by Paul Zimmerman on Apr 27th 2015

Bought one of these in July of 2014 for my LCP - these are the "apple" of pistol holsters - they just work. No fussing, no fitting, the structure is firm enough to hold its shape but not so hard or sharp cornered as to stick one in the ribs. You just drop in the gun, clip on your belt and go. And the shape is utterly invisible - just another cellphone case. The magazine protector kept all the pocket lint out of the spare mag (and the topmost round in place). I am an active person who lives out in the country - that holster has been bashed, turned upside down, sideways, you name it - top never popped open and except for a little dirt looks as good as the day it arrived. Gun fits like a glove.

---

smaller

Posted by Unknown on Feb 23rd 2015

I would prefer thiner materials to make it smaller, anyway it is a good product. thank you.

*Editor's note: We appreciate the feedback but we cannot risk jeopardizing the strength of the leather by making this holster even thinner.*

---

Great Products!

Posted by William M. Fisher on Feb 20th 2015

Excellent products, I now have two and love them. They are well worth the price.

Bill Fisher

---

Great for scrubs

Posted by Doc L T on Jan 7th 2015

I got the SP for my LCP. I needed something discrete that would clip on to my scrub pants. This holster is perfect for the medical professional who wears scrubs all day.

---

Conceal in Plain Sight

Posted by Unknown on Oct 7th 2014

I am a rather large individual which sometimes makes concealed carry difficult. This product is perfect. It goes on your hip and no one sees it. I received it a few days ago and today was the first chance I had to check it out.
It looks and feels great. The leather is supple and it is well stitched. My LCP fits snugly inside with no room to move around but still slides in and out easily.
Next I decided to give it an extreme test. I had to go to the post office and my bank. I strapped it to my belt and took off. And, no, I am not an idiot. I removed my LCP before I left. I have no desire to have a nasty experience if I was challenged. First the post office. People are so used to seeing electronics holsters on belts that no one gave me a second look...not even a glance. Now for the bank. I admit I took a deep breath before going in. I knew I would be standing in lines less than 6ft from a real LEO, not an untrained security guard. Again, not even a second look. I had to stand in two different lines where I spent almost 15 minutes within 6ft of him.
Bottom line...I have only had it a few days and I am sold. I'll probably have to get one for my Glock 27 so I'll have something when I want to carry something bigger than a 380.

---

very nice

Posted by Robert Koidahl on Aug 27th 2014

Try one you'll buy one.. Don't even know I'm wearing one. Nobody else does either..

---

sneaky pete nylon

Posted by Dr. Larry Webb on Aug 22nd 2014

I like it a bunch! My lcp is small enough that the sp holster is unobtrusive. I have one person question ask me how I liked my Galaxy note (they assumed the sp was a cell phone case.)

Fits my weapon, looks good, does the job. It's fairly comfortable. It seems durable.

---

awsome

Posted by Unknown on May 31st 2014

Really nice quality leather well made. Nice to wear don't notice it on.

---

THE BEST HOLSTER I HAVE EVER OWNED

Posted by daniel pattavina on May 29th 2014

AFTER PUTTING THIS HOLSTER IN USE, I FOUND THAT THIS IS THE BEST HOLSTER THAT CAN SAVE THE LIFE OF MY FAMILY AND MYSELF. IT IS VERY COMFORTABLE AND VERY EASY TO DRAW THE WEAPON . I WOULD STRONGLY ADVISE ANYONE THAT CARRIES CONCEALED TO INVEST IN THIS HOLSTER, TRUST ME IT CAN SAVE YOUR LIFE..

---

Gift for my son.

Posted by Ken on Apr 24th 2014

This is my third purchase of the Sneaky Pete holsters. I purchased 2 for myself for my LC9 and was so happy with them that I purchased a Sneaky Pete for my son's LCP for his birthday gift. These holsters make carry with shirt tucked in so easy!

---
Showing reviews 1-10 of 41 | Next
Customers Who Viewed This Product Also Viewed
Warranty Information
This product has a lifetime warranty against manufacturing defects. If for any reason this product or material should fail as the result of inferior manufacturing, please contact us immediately.



We also have a very lenient policy when it comes to Returns and Exchanges, which you can ready about on the Contact US page.