The Glock 43 Sneaky Pete Holster has double belt clips which can accommodate a belt up to 1.75" inches wide. The holster is made of high quality soft leather, and when worn on the belt resembles a cell phone case. The advantage of this design is that it allows you to carry your Glock 43 concealed, but with full and easy access. Now it's possible to wear whatever you want, whenever you want to. Don't dress around your gun anymore.

The holster is made inside and out of glove-quality leather, and uses two magnets to stay closed. Each holster is designed for your specific firearm, and the opening is made in such a way that you cannot accidentally place your finger on the trigger during draw. The Kydex insert ensures that a smooth, silent draw occurs every time.

The use of double stitching and steel rivets guarantees that this holster will last for years to come. All available options are listed above, and the holster can be ordered either with the belt loop, or optional belt clip. We design every holster to be as small as possible and still fit your pistol. This holster will not work with a pinky extender on your Glock. Frequently Asked Questions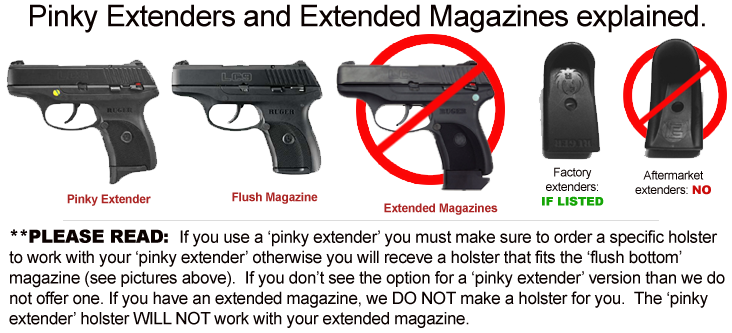 Approx Dimensions
Height 5 3/4" Width 4 3/8" Depth 1 1/8" (standard holster)
Warranty:
Please contact us for warranty and exchange requests.
safety kit for the action man!
Love the way it fits on you side. Wish it could be a bit smaller, but pistol must fit.
I am very satisfied. No one has asked me what that thing is on my belt (especially at church). My phone is next to it and it all blends in. Easy to draw my weapon if ever needed. I'm a fan.
Excellent holster keeps my 43 hidden when I wear shorts or summer shirts. The pistol fits perfectly in holster
It is a good holster. Very comfortable except for sitting. Good quality. Just like my glock 27 my 43 fits good. The dovetail of my g43 prints just a little, but not enough to complain. I still like the fact that I don't have to dress around my gun. I can recomend this holster with confidence.
I have a holster for my g43 and 27 . I really like both . They are very comfortable . They are a little bulky but I find iwb/ ankle/and extra shirts in the summer uncomfortable. It is an easy and acessable way to conceal a small pistol.
As soon as I received my holster in the mail I could tell it was well built. You can't tell it's a holster! I am kind of a geeky looking guy, bald with glasses, and people believe that I am carrying my cell phone in a leather pouch. My Glock 43 fits perfect, and it draws easily. Thank you Sneaky Pete!
I just recieved mine today, the glock, 19, 43 and I realized I ordered the wrong model 43 so I just ordered the glock 42 today again plus the magazine holster for the 9m. So far, so good. Looks pretty good, I didn't receive the included extras they said would be with it, oh well. Good lookin holster, I can't wait to try it out out!
The craftsmanship of this holster is very nice and it holds my CCW snug and secure, but still easily accessible. While it is a bit larger than I assumed it would be, I am still pleased with my purchase.
This is my third sneaky Pete and I have not been disappointed with any of them. I will certainly buy another if becomes necessary
For a big man, this is a great conceal carry product. Never get a 2nd look, and the quality and appearance of my Sneaky Pete is top notch. I've recommended Sneaky Pete to all of my friends and family!