The Glock 42 Sneaky Pete Holster has double belt loops which can accommodate a belt up to 1.75" inches wide. The holster is made of high quality soft leather, and when worn on the belt resembles a cell phone case. The advantage of this design is that it allows you to carry your Glock 42 concealed, but with full and easy access. Now it's possible to wear whatever you want, whenever you want to. Don't dress around your gun anymore.

The holster is made inside and out of glove-quality leather, and uses two magnets to stay closed. Each holster is designed for your specific firearm, and the opening is made in such a way that you cannot accidentally place your finger on the trigger during draw. The Kydex insert ensures that a smooth, silent draw occurs every time.

The use of double stitching and steel rivets guarantees that this holster will last for years to come. All available options are listed above, and the holster can be ordered either with the belt loop, or optional belt clip. We design every holster to be as small as possible and still fit your pistol. This holster will not work with a pinky extender on your Glock. Frequently Asked Questions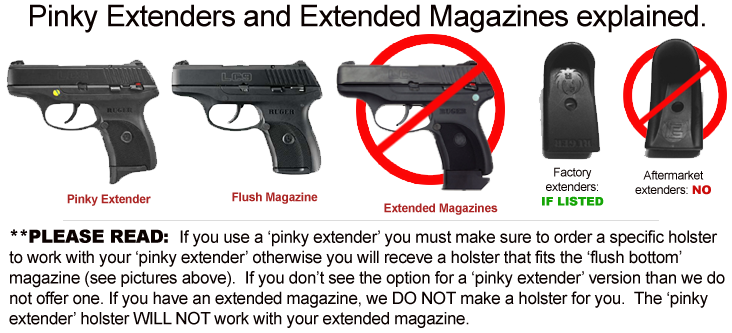 Approx Dimensions
Height 5 3/4" Width 4 3/8" Depth 1 1/8" (standard holster)
Warranty:
Please contact us for warranty and exchange requests.
All sneaky perennial products are the best on the market bar none.
Good quality holster, just hard to conceive how large it is until you strap it on.
I have tried my holster out or on in several situations in public. I believe if people notice the case on my belt they probably think "nerd" and move on. I have worn it with a t shirt, tucked in and out sport shirt, lite jacket, etc and no one looks twice. My Glock 42 is completely enclosed, with the closure secured by a small magnet. The draw would never win over a regular holster but that's not an issue, it's there and easily accessible if need be. This holster is a great option in my available holsters. I would recommend this as a choice for any small pistol.
Bought this for my soon to be husband and he absolutely fell in love with it.
It is nice to know that a product does what it is advertised to do. My holster conceals my Glock 42 so well that it can pass for a cell phone holder. In a recent conversation with a fellow biker about concealed carry,she had no idea that I was carrying. There has never been a time that anybody has known that I was packing. The holster is comfortable to wear and easy to get my pistol unholstered. I will be purchasing another if the need ever arises.
A great holster, truly makes conceal carry possible.
I love this holster, with my job I meet with alot of people both in their homes and in public locations, no one has ever known I was carrying. When the subject came up in conversation and I showed them the holster and my Glock they can't believe what they have seen. The sneaky Pete allows me to carry at all times and I have never had a confrontation. I also like how easy it is to draw from, I can draw from my Sneaky Pete faster than my other holsters. I will be ordering one for my new Springfield XD S. Even at my local range I have had guys who have never seen one not believe what they are seeing.
So far this is the best way for me to carry at work and in the public. Nobody can tell that I am carrying. It holds the gun securely so you never have to worry about it falling out. It is comfortable and allows easy access. It works for me and allows me sit in the car and my office chair and not even notice it is there. If I need never need to draw my weapon it's a piece of cake. I am buying a Glock 19 gen 4 tomorrow and I will be buying one for that one.