Helpful Videos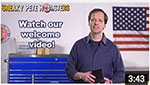 Latest Reviews:
"Ordered the "Belt Clip" model for my Sig P320C. I received it 4 days later through regular mail. Couldn't wait to see it...Holster came packaged in a box with foam padding. Holster was enclosed in a bag to protect finish.... Placed pistol in the holster and it fit perfectly."

-Steve
The innerPocket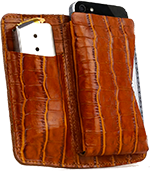 "...just recevied my holster this morning, very happy with Quality and style although i did order the wrong size to start with the company was very understanding and helpful with the exchange i love this holster and will be ordering more soon thank you."
-Ralph C.
Cellphone Holsters
Beretta Nano Sneaky Pete Holster (Belt Clip)
Beretta Nano Sneaky Pete Holster (Belt Clip)
---
Sneaky Pete Holsters: Holsters
()

Product Videos
Please read: Fit Guide
Product Description
The Beretta Nano Sneaky Pete Holster has sewn belt clips which can accommodate a belt up to 1.75" inches wide. The holster is made of high quality soft leather, and when worn on the belt resembles a cell phone case. The advantage of this design is that it allows you to carry your Nano concealed, but with full and easy access. Now it's possible to wear whatever you want, whenever you want to. Don't dress around your gun anymore.

The holster is made inside and out of glove-quality leather, and uses two magnets to stay closed. Each holster is designed for your specific firearm, and the opening is made in such a way that you cannot accidentally place your finger on the trigger during draw. The Kydex insert ensures that a smooth, silent draw occurs every time.

The use of double stitching and steel rivets guarantees that this holster will last for years to come. All available options are listed above, and the holster can be ordered either with the belt loop, or optional belt clip. We design every holster to be as small as possible and still fit your pistol.
Dimensions
Approx Dimensions:
Height 5 3/4" Width 4 3/8" Depth 1 1/8" (standard holster)
---

Product Reviews
Excellent look and fit

Posted by Perry on Mar 14th 2015

Works great for my Beretta Nano. Very well made and looks like an over sized cell phone case on my waist. Only thing I found a little awkward is the draw due to the shape. It does hold it secure and the magnetic cover stay put. All in all I am very satisfied with my purchase.

---

Great concealed carry holster.

Posted by Bob on Jan 15th 2014

Works perfect for concealed carry and easy access to your weapon.

---

An excellent carry option.

Posted by Dan on Apr 18th 2013

This holster enables a much wider variety of dress styles and eliminates the need for a dress shirt or larger pant size to allow for an IWB holster. The holster is made from very attractive and well-stitched glossy black leather and is held shut with powerful magnets that i cannot easily imagine opening up accidentally. The holster is somewhat larger than I had imagined (It is no cell phone case), but in reality is as small as it can functionally be. The nano is held snug so it does not bump around in the holster but is still able to be pulled free without a problem. This is by far the most comfortable way to carry in my opinion and has the added ability of being able to draw from a seated position, which can be very difficult with a IWB or pocket holster.

---

Outstanding Product

Posted by Arthur Joseph Limbaugh on Apr 3rd 2013

This Holster is just what I've been searching for the last year or so. I've tried other concealment holsters (inside the waistband, inside the front of the pants, etc.) but they never satisfied me. I am completely satisfied with this product. Keep up the good work and the "Good American Ingenuity"!

---
Customers Who Viewed This Product Also Viewed
Warranty Information
This product has a lifetime warranty against manufacturing defects. If for any reason this product or material should fail as the result of inferior manufacturing, please contact us immediately.



We also have a very lenient policy when it comes to Returns and Exchanges, which you can ready about on the Contact US page.