Latest Reviews:
"Ordered the "Belt Clip" model for my Sig P320C. I received it 4 days later through regular mail. Couldn't wait to see it...Holster came packaged in a box with foam padding. Holster was enclosed in a bag to protect finish.... Placed pistol in the holster and it fit perfectly."

-Steve
"..just wanted to take a minute and let you know how impressed we are with your company. Notwithstanding the fast service, the product itself is fantastic and far better than advertised. You guys need to toot your horn a little louder, more people need to know who you are and what you do."

-Bob & Mary F.
"...just recevied my holster this morning, very happy with Quality and style although i did order the wrong size to start with the company was very understanding and helpful with the exchange i love this holster and will be ordering more soon thank you."
-Ralph C.
"I've been carrying around the Glock 27 holster in the black alligator leather for about 9 months in just about every place you can legally carry in VA. In all that time, I'll only had two people ask me about it. One was a lady at Costco who said it looked nice. The second was an inquisitive 11 year old girl who asked me what it was to which I replied that it was my purse. She was satisfied with the answer...I use it most days as my primary carry method..."
-Ruth.

Walther PK380 Sneaky Pete Holster (Belt Clip)
Walther PK380 Sneaky Pete Holster (Belt Clip)
---
Sneaky Pete Holsters: Holsters
()

Product Videos
Please read: Fit Guide
Product Description
The Walther PK380 Sneaky Pete Holster has sewn belt clips which can accommodate a belt up to 1.75" inches wide. The holster is made of high quality soft leather, and when worn on the belt resembles a cell phone case. The advantage of this design is that it allows you to carry your Walther concealed, but with full and easy access. Now it's possible to wear whatever you want, whenever you want to. Don't dress around your gun anymore.

The holster is made inside and out of glove-quality leather, and uses two magnets to stay closed. Each holster is designed for your specific firearm, and the opening is made in such a way that you cannot accidentally place your finger on the trigger during draw. The Kydex insert ensures that a smooth, silent draw occurs every time.

The use of double stitching and steel rivets guarantees that this holster will last for years to come. All available options are listed above, and the holster can be ordered either with the belt loop, or optional belt clip. We design every holster to be as small as possible and still fit your pistol.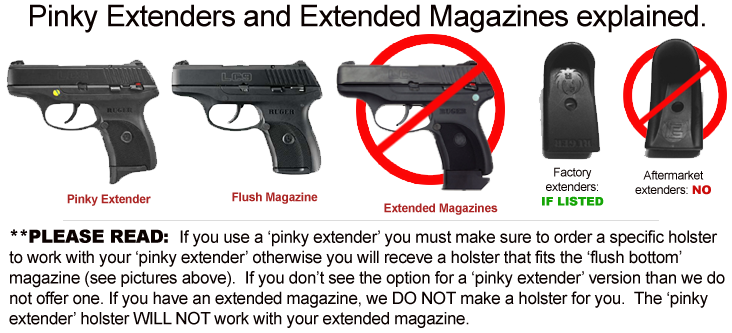 Dimensions
Approx Dimensions:
Height 7" Width 5" Depth 1 3/8" (standard holster)
---

Product Reviews
left handed walther PK380 holster

Posted by Douglas M. Glass on Jul 20th 2016

Great holster. High quality materials and craftsmanship. I also have one for my Walther PPK/S. Same comments.

---

Wather PK380

Posted by EUGENE on Dec 24th 2015

THIS IS A VERY GOOD HOLSTER , ONLY ONE PROBLEM. THE PK380 I HAVE HAS DUAL SAFETY RELEASES, THESE CATCH ON FOWARD EDGE OF HOLSTER AND THE CLIP HAS A FLARED BASE. WHICH MAKES IT SNUG FIT. DID NOT NOTE THIS WHEN I ORDERED.


---

Ultimate Concealment

Posted by Ed Goolsby on Sep 4th 2014

No one knows I'm carrying. I've actually stood beside LawEnforcment friends and they had no ideal. Of ccourze I show it to them just so they'll be aware in their jobs. Love it

---
Customers Who Viewed This Product Also Viewed
Warranty Information
This product has a lifetime warranty against manufacturing defects. If for any reason this product or material should fail as the result of inferior manufacturing, please contact us immediately.



We also have a very lenient policy when it comes to Returns and Exchanges, which you can ready about on the Contact US page.