Walther PK380 Sneaky Pete Holster (Belt Clip)
Walther PK380 Sneaky Pete Holster (Belt Clip)
---
Sneaky Pete Holsters: Holsters
()

Product Videos
Please read: Fit Guide
Product Description
The Walther PK380 Sneaky Pete Holster has sewn belt clips which can accommodate a belt up to 1.75" inches wide. The holster is made of high quality soft leather, and when worn on the belt resembles a cell phone case. The advantage of this design is that it allows you to carry your Walther concealed, but with full and easy access. Now it's possible to wear whatever you want, whenever you want to. Don't dress around your gun anymore.

The holster is made inside and out of glove-quality leather, and uses two magnets to stay closed. Each holster is designed for your specific firearm, and the opening is made in such a way that you cannot accidentally place your finger on the trigger during draw. The Kydex insert ensures that a smooth, silent draw occurs every time.

The use of double stitching and steel rivets guarantees that this holster will last for years to come. All available options are listed above, and the holster can be ordered either with the belt loop, or optional belt clip. We design every holster to be as small as possible and still fit your pistol.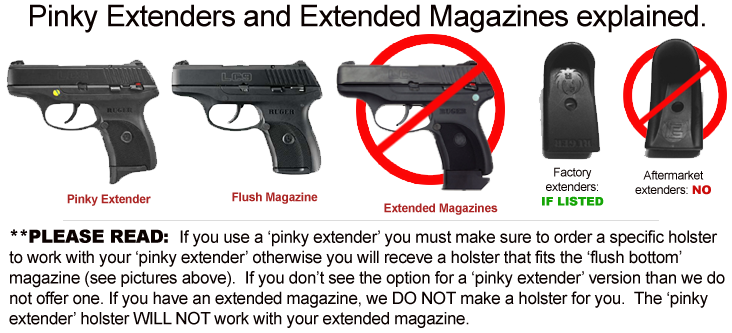 Dimensions
Approx Dimensions:
Height 6 2/8" Width 5" Depth 1 1/8" (standard holster)
---

Product Reviews
Customers Who Viewed This Product Also Viewed
Warranty Information
This product has a lifetime warranty against manufacturing defects. If for any reason this product or material should fail as the result of inferior manufacturing, please contact us immediately.



We also have a very lenient policy when it comes to Returns and Exchanges, which you can ready about on the Contact US page.