The time has come to tame your inner pocket. With all the stuff we are expected to carry around in our daily life it's no wonder our pockets bulge. What's worse, the things we carry around get jumbled together and scratched and damaged. When the time comes that we actually need something, how many times do we have to practically empty our pockets to find what we're looking for?
That ends today. With the invention of the innerPocket, you no longer have to root around in your pocket to lay your hands on something. Made from thin, high quality imported calf leather, the innerPocket is designed with a variety of pockets and pouches to store the everyday items that make our lives easier. The innerPocket will hold any single stack magazine up to .45 cal. For a quick list of some of the many things that you can carry in your innerPocket read on: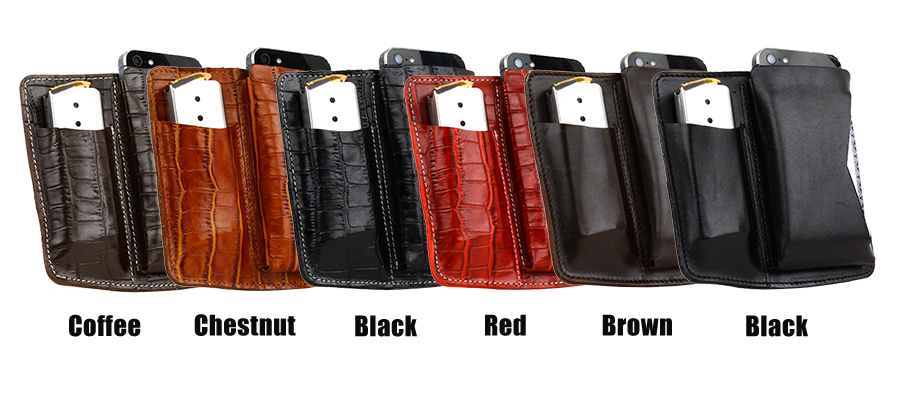 Cell phone, Spare Magazine, Cash, Credit Cards, Drivers License, Gun Permit, Health Care ID, Receipts, A spare key, Memory Card, Reading Glasses, Leatherman Tool, Zippo Lighter, Pocket Knife, Toothpicks, E-Cigarette...and much more.
You can order your innerPocket in black or brown leather, or several different alligator patterns. While we have these holsters listed for the iPhone, they will of course by measurement fit other phones. Please see the "Dimensions" tab for further details.
iPhone 4
5" wide 4 3/4" tall
iPhone 5
5" wide 4 3/4" tall
iPhone 6
5" wide 5" tall
Warranty:
Please contact us for warranty and exchange requests.
Originally bought holster for Glock 27 to carry on my belt. The holster is very well made and attractive black leather. The G27 fit perfectly. Even when I'm not carrying, I like to have the pistol in my car while driving. Transporting the pistol to and from the house always required that I cover it to hide from nosey neighbors. The Sneaky Pete holster is an excellent way to transport the pistol with no one the wiser. I'm also looking for a manner to attach the holster to my console for carrying while driving. Doug
Best product-Best Price=Best Value
I have been a leather hand craftier hobbyist for almost 50 years, I just received my order of a Gun Holster, Cell for case and Belt. The quality of both the leather and craftsmanship are first rate. The service was also fantastic I placed my order on Saturday and received it the next Tuesday.But best of all is the design of the Gun Holster, it is simple, effective and very user friendly. Thanks Sneaky Pete. Richard Stamford, CT
just recevied my holster this morning, very happy with Quality and style although i did order the wrong size to start with the company was very understanding and helpful with the exchange i love this holster and will be ordering more soon thank you
Beautiful piece, material and workmanship. However, my Springfield single stack 45 doesn't come close to fitting. I ordered the biggest iPhone 6 version thinking my Samsung S5 (virtually the same size as 6 Plus) would fit, but it does't either. My mistake on that, but limiting the tailoring to iPhones is pretty narrow marketing. I ended up using it in a winter jacket pocket, bit won't know how handy it is for another 6 months!
I like the wallet very much. I can keep all my stuff in it and a few extra things. I would recommend this product to anyone.
Sneaky Pete LCP holster with pinkey extender
Just received this holster and gun fits perfectly no sloppiness at all. Nice addition.