The Keltec P3AT Sneaky Pete Holster has a sewn belt clip which can accommodate a belt up to 1.75" inches wide. The holster is made of high quality soft leather, and when worn on the belt resembles a cell phone case. The advantage of this design is that it allows you to carry your P3AT concealed, but with full and easy access. Now it's possible to wear whatever you want, whenever you want to. Don't dress around your gun anymore.

The holster is made inside and out of glove-quality leather, and uses two magnets to stay closed. Each holster is designed for your specific firearm, and the opening is made in such a way that you cannot accidentally place your finger on the trigger during draw. The Kydex insert ensures that a smooth, silent draw occurs every time.

The use of double stitching and steel rivets guarantees that this holster will last for years to come. All available options are listed above, and the holster can be ordered either with the belt loop, or optional belt clip. We design every holster to be as small as possible and still fit your pistol. The size of this holster before options is: Height 5" Width 3 3/4" Depth 7/8" (standard holster). Frequently Asked Questions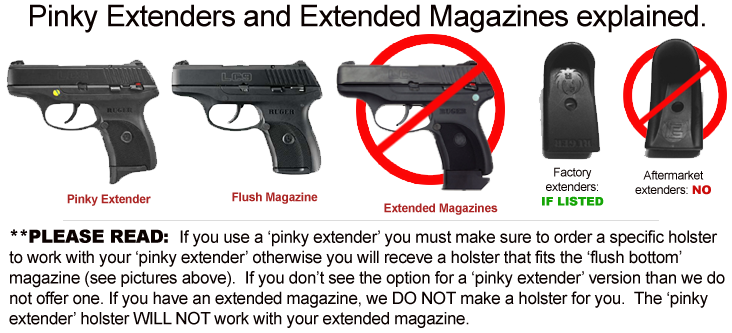 Availability:
In stock now.
Approximate Dimensions
Height 5" Width 3 3/4" Depth 7/8" (standard holster)
Approx Dimensions
Height 5" Width 4 1/8" Depth 1" (standard holster)
Warranty:
Please contact us for warranty and exchange requests.
Good holster. Quality leather. Don't get the belt clip, get the loop model. The clip comes off the belt very easily and could be grabbed by someone & pulled off your belt very quickly. The seat belt in my car actually pulls this up off my belt.
This is better than what I expected . Top quality craftsmanship
I just want to thank your company for making a outstanding holster for my KEL TEC P3AT. it is a perfect fit and the Holster is the best quality anybody could ask for. I'm going to let everybody in the gun club that I belong to at over 800members know just what a great quality product you have .. Thanks again for making my day. Walter
I have 3 of these holsters. I use 1 for a compact 45, 1 for a kel-tec 9mm and 1 for the .380. I have had all for 4 months and have worn them every where and nobody ever notices... I will tell you that is a pleasure to not have to worry about how I dress. The quality is good and the fit perfect. The belt clips are very high quality and stay clipped to the belt. I would and do recommend these to everybody.
Ballistic Nylon works for me
I bought the Keltec P3AT belt clip holster in Ballistic Nylon because I usually wear jeans. My P3AT fits perfectly! As others have said: it is NOT a guick-draw holster, but I wanted maximum concealment. I found that in order to re-holster the gun, I needed both hands because of the very "snug" fit. I can easily draw with one hand though, just not re-holster it. I've worn it to many places, and nobody has ever said a word! It works for me in the car with seat belts on, and while riding my motorcycle. I find it very comfortable to wear all day long!
Goes on and off belt easily. No one pays any attention to the holster or asks what it is even though I have a cell phone on the other side of my hip. I did add about an eighth or quarter inch of padding to raise the weapon to allow my fingers to more easily grab the receiver. Intend to buy another holster for my Glocks.
Keltec P3AT belt clip holster - GREAT PRODUCT and Comfort!
Impressive leather and it cleans up nice Workmanship is great
I wear my alligator holster everyday for my KelTec 380. I wear it everywhere and no one even bats an eye at it. It appears to be a phone case and because of that is totally invisible and I am able to be totally protected.
Keltec P3AT belt clip holster - GREAT PRODUCT!
The materials and workmanship, as well as the functionality and safety features built into the holster are superior. I consider the price very reasonable and the delivery time was quick. I will be purchasing other Sneaky Pete products in the future.
Finally, a CCW holster that's easy to access.
I've had my Concealed Carry Weapons permit since this state made them available, and after a drawer full of holsters, I started a pocket carry, which was impossible to use while seated (like in a car). Now I use the SP holster and no one gives it a second glance (my phone is now in my pocket). Well made, easy access, secure , good looking, wear anywhere - did I miss anything?